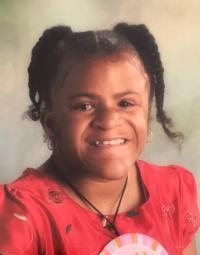 Aiesha Rhonda Faye White Bradley, age 20, of Heath, went home to be with her Lord on Wednesday, August 14, 2019. She was born on February 19, 1999 in Los Angeles, California. She was adopted out of foster care in October 2003.
A memorial service will be held at 11:30am on Saturday, August 24, 2019 at Christian Life Center, 665 Linnville Rd SE, Heath, OH 43056.
Aiesha enjoyed listening to all types of music. She was best known for the love and passion she put into dancing and praising the Lord. All who met Aiesha would soon fall in love with her sweet and kind nature and love for wanting to touch your hand or sit next to you.
Aiesha is survived by her mother, Almeta Bradley; siblings, Anibel Bradley, Anthony Martinez-Bradley, Andrew Bradley, and Aricjose Martinez-Bradley; grandfather, Isaac (Darbin) White; aunt, Alicia (Noah) Frazier; uncle, Andra (Jay) White; as well as a host of extended family and friends.
Aiesha is preceded in death by her grandmother, Nancy Price.
To sign an online guestbook, please visit www.brucker-kishlerfuneralhome.com.