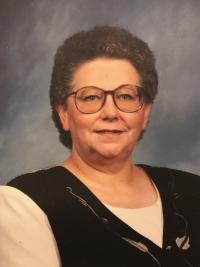 A funeral service for Sylvia M. Stradley, 72, of Newark, will be held Wednesday, August 21, 2019 at 12:00 pm at Brucker and Kishler Funeral Home. Burial will follow at Newark Memorial Gardens Cemetery. Family will receive friends from 10:00 am to 12:00 pm, prior to the service at the funeral home, 985 N. 21st St. Newark.
Sylvia passed away Friday, August 16, 2019, at Tuscany Gardens in Pataskala. She was born September 14, 1946, in Newark, to the late Everett and Betty (Green) Meadows.
A loving mother and grandmother, she enjoyed spending time with her family and friends especially her great-grandchildren. Sylvia was a wonderful cook and loved watching the birds and critters outside her home. She was a member of Holy Trinity Lutheran Church. Sylvia will be greatly missed by all.
She is survived by her daughters, Nikki (Mike) Ballinger of St. Louisville and Shannon (Joe) Henry of Newark; sister, Mary (Larry) Lloyd of Alexandria; brothers, Mike (Vicki) Meadows of Heath and Tim (Linda) Meadows of Newark; grandchildren, Cody (Caitlin) Ballinger, Emily (Dave) Proffit, Abbey (Scott) Vierstra, Tiffany (Drew) Gordon, Taylor (Sherman) Gordon, Whitney (Kyler) Gordon, and Kaelyn Henry; eleven great-grandchildren; several nieces, nephews, and cousins, and many special friends especially Sue Weiland.
In addition to her parents, Sylvia was preceded in death by her husband, David H. Stradley.
In lieu of flowers, contributions may be made to Holy Trinity Lutheran Church, 592 West Main St. Newark, Ohio 43055.
To sign an online guest book, please visit www.brucker-kishlerfuneralhome.com