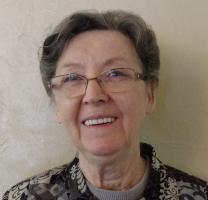 Donna Marlene Greathouse, age 81, of Heath, passed away peacefully on Saturday, September 21, 2019 at the Selma Markowitz Care Center. She was born on July 3, 1938 to the late Harry and Lena (Twigg) Thompson in Newark, OH.
A memorial service will be held at 3pm on Sunday, September 29, 2019 at Christian Apostolic Church, 22 N. 23rd St, Newark, OH 43055. Donna will be laid to rest at Newark Memorial Gardens.
Donna loved being active in Christian Apostolic Church and spending time with her church family. In her free time, she liked to travel, and sight see or just sit and watch the wildlife that came into her yard.
Donna is survived by her loving husband of 60 years, Dale Greathouse. She also leaves behind her children, Dalene (Dale) Yokum and Randolph Greathouse; grandchildren, Miranda (Scott) Huey, Brittany (Jay) Lytle, Victoria Greathouse, and Lauren Greathouse; great grandchildren, Kaylin, Brooklyn, and Josiah; and siblings, Glen Thompson, May (Earl) Richardson, Marie Sunkel, Joyce Wyde, and Debbie Parsons.
In addition to her parents, Donna is preceded in death by her brother, Eddie Thompson, and sister, June Thompson.
To sign an online guestbook, please visit www.brucker-kishlerfuneralhome.com