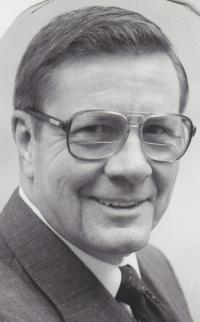 Clifford Neighbarger, age 94, of Newark, passed away peacefully on Friday, September 13, 2019 at Middleton Nursing Home. He was born on June 4, 1925 to the late James and Mabel (Hill) Neighbarger in Newark, OH.
A funeral service will be held at 11am on Wednesday, September 18, 2019 at Brucker Kishler Funeral Home, 985 N. 21st Street, Newark, OH 43055. Family will greet friends for one hour prior to the service at the funeral home. Services will be officiated by Pastor Chris Adams and Cliff will be laid to rest at St. Joseph's Cemetery following the service.
Cliff worked at Sears for 24 years and left to become an insurance agent for State Farm Insurance in 1969. He worked from his office on Hebron Rd for 24 years. Cliff retired in June 1993. He proudly volunteered to serve in the Navy in 1943 and became a radar instructor at the technical training center in Memphis, TN. His last 6 months of service was spent in the Pacific-Asiatic Theatre as an aviation radioman, serving in an evacuation squadron.
In his earlier years, while attending St. John's United Church of Christ, Cliff taught Sunday School, Chaired the Mr. and Mrs. Club and was president of the Church Council many times. He later attended St. Paul's Lutheran Church and was a member of the Evangelism Committee, Co-Chaired the greeting program, and served as president of the Faith After 55 organization for several years. Most recently, Cliff was a member of Christ Lutheran Church of Heath. He was an active member and promotor of the R.O.F. organization and two men's groups. Cliff was a past president and charter member of the Newark Toastmasters Club. Cliff spent his free time volunteering at the Food Pantry Network of Licking County.
Cliff loved to travel. He and his wife, Betty, travelled all over the world, some of their favorite places were Greece, Turkey, Israel, Egypt, and Russia.
Cliff is survived by his loving wife of 58 years, Elizabeth (Fleming) Neighbarger; children, Janet (Sidney) Gerber, Elizabeth (Dr. William) Winkler, John (Megan) Neighbarger, Clifford Neighbarger, Jr., Ronald (Barb) Neighbarger, Raymond (Julia) Pallares; 15 grandchildren; and 10 great grandchildren.
In addition to his parents, Cliff is preceded in death by his first wife, Shirley Neighbarger; daughter, Cyndy Leach; and brother, Howard Neighbarger.
In lieu of flowers, donations may be sent to the Food Pantry Network of Licking County, 1035 Brice Rd, Newark, OH 43055.
To sign an online guestbook, please visit www.brucker-kishlerfuneralhome.com.