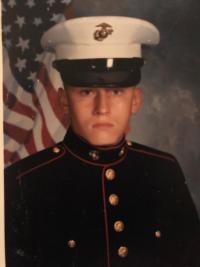 Steven 'Troy' Cockerham born in Columbus, Ohio on October 19, 1969, passed away unexpectedly on Saturday, September 14, 2019.
He was preceded in death by his father, Robert L. Cockerham and mother, Elizabeth A. Cockerham (Rannebarger-South).
He is survived by his sons, Joseph, Adam, and Kyle; brothers Dan, David, Doug, and Scott; and sister, Donna Cockerham.
Steven served honorably in the U.S. Marine Corps and was a veteran of Desert Shield/Storm. After the war, he served and subsequently retired as a Police Officer with the Columbus Division of Police in the Patrol Subdivision. Steven loved being a proactive Policeman, and possessed the courage of a lion and the heart of a lamb. His heroism, as well as his compassion was well known within the Columbus Division of Police. His passion for serving the public was second only to his love and devotion to his three sons.
A public viewing will be held from 4-7 pm on Friday Sept. 20th at the Brucker and Kishler Funeral Home, 985 N. 21st St. Newark, where a memorial service will follow at 7:00 PM.
Rest in sweet peace dear 'Tro-bo'.
To sign an online guestbook, please visit www.brucker-kishlerfuneralhome.com