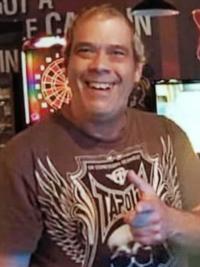 Ronald Dean McIntyre, 51, of Newark, died Monday, September 16, 2019. He was born April 29, 1968 to Walter and Bonnie (Landis) McIntyre.
Ron graduated from Newark High School class of 1986. He was an avid sports fan, especially of the New York Yankees and Oakland Raiders. Ron attended, whenever possible the Yankees would play a local team. Ron also enjoyed playing sports as he played in several softball leagues throughout the years. Ron was a great person with an outgoing personality. He was well liked by everybody he met. Ron will be sorely missed by all the friends and family that he left behind.
He is survived by his mother, Bonnie McIntyre; two sisters, Anita Young of Crooksville and Carolyn of the home; and one brother, Steven McIntyre of Newark.
He was preceded in death by his father, Walter; and two brothers.
Visitation will be Tuesday from 5-8 PM at the Brucker and Kishler Funeral Home, 985 N. 21st Newark, A funeral service will be Wednesday at 11:00 AM at the Church of Jesus Christ of Latter Day Saints, 2486 Granville Rd., Granville. Burial will follow the service in Cedar Hill Cemetery.
To sign an online guestbook, please visit www.brucker-kishlerfuneralhome.com