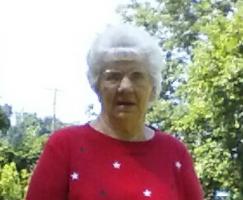 Hermine "Mimi" Foxall, age 93, of Heath, passed away peacefully at her home on Saturday, September 21, 2019. She was born on May 28, 1926 to the late John and Flora (Lichtner) Steinman in Zanesville, OH.
A memorial service will be held at 11am on Friday, October 4, 2019 at Heath United Methodist Church, 1149 Hebron Rd, Heath, OH 43056. Family will greet friends for one hour prior to the service at the church.
Mimi was a long-time member of Heath United Methodist Church. She spent her life being kind and generous to others. She also volunteered with Licking Memorial Hospital and at Granville Christian Academy.
Mimi is survived by her children, Jacquie Foxall and Jeff (Kerrie) Foxall; grandson, Joel Foxall; many nieces and nephews; special friend, Laura Luth, and special neighbors, Wendy and Dana.
In addition to her parents, Mimi is preceded in death by her husband, Robert T. Foxall; 4 brothers and 4 sisters.
In lieu of flowers, donations may be sent to Hospice of Central Ohio, PO Box 430, Newark, OH 43058.
To sign an online guestbook, please visit www.brucker-kishlerfuneralhome.com.