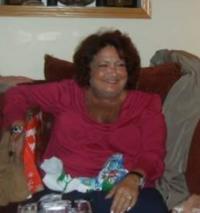 Marcia Ann Chism, age 65, of Newark, passed away on Saturday, October 26, 2019 at her home. She was born on November 7, 1953 to Ernest and Dolly (Brison) Lipperd in Indianapolis, Indiana.
A memorial service will be held at 11am on Saturday, November 2, 2019 at Crossroads Community Wesleyan Church, 5112 West US 50, Holton, IN 47023.
Marcia is survived by her children, Bridgette (David) Hail, John (Julie) Foster, and Joe (Danielle) Foster; grandchildren, Lance, Lilyan, Eva, Dylan Foster, and Jacob, Barret, and Evie Hail; siblings, Renee (Fred) Wise, Mavis (Rick) Cope, David (Rhonda) Lipperd, Ernie (Amy) Lipperd; and many nieces and nephews.
Marcia is preceded in death by her father; lifelong partner, Frank Barrick; and brother, Randy Lipperd.
To sign an online guestbook, please visit www.brucker-kishlerfuneralhome.com.