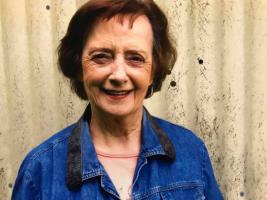 Phyllis Jean Walker, age 88, of Reynoldsburg, passed away peacefully at her home, surrounded by her family on Sunday, October 6, 2019. She was born on June 4, 1931 to the late James and Verna (Pinkerton) Howard in Newark, OH.
A funeral service will be at 11am on Saturday, October 12, 2019 at First Presbyterian Church 65 N. Third Street, Newark, OH 43055. Family will greet friends from 2-4pm and 6-8pm on Friday, October 11, 2019 at Brucker Kishler Funeral Home, 985 N. 21st Street, Newark, OH 43055. Services will be officiated by Dr. John Minihan and Pastor Steve Brand. Phyllis will be laid to rest at Wilson Cemetery following the service.
Phyllis worked as a clerk for Newton Township for 12 years. In her free time, she enjoyed cooking, music, and spending time with her family. Phyllis was an active member of First Presbyterian Church for 72 years.
She is survived by her loving husband of 69 years, Leland Walker; children, Jeffrey (Ann) Walker, Vickie (Nabil) Gayed, Linda (David) Mann, Kimberly (Dave) Hinkle, and Donna (Paul) Robes; 14 grandchildren; 24 great grandchildren; 1 great great grandchild; and many nieces, nephews, and friends.
In addition to her parents, Phyllis is preceded in death by her brothers, Donald, Chester, Wendell, Herman, and James Walter, Jr.; sisters, Mary Lybarger and Clara Ritchey; and great grandson, Levi Daniel Gargiulo.
Donations in Phyllis' memory may be sent to First Presbyterian Mission Committee, 65 N. Third Street, Newark, OH 43055 or to Hospice of Central Ohio, PO Box 430, Newark, OH 43058.
The family would like to give thanks to HealthPro and to the staff of Hospice of Central Ohio and a very special thank you to Belinda Corbin and Stacy Cross of HealthPro for all their care and compassion.
To sign an online guestbook, please visit www.brucker-kishlerfuneralhome.com.