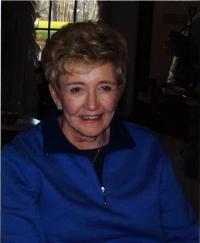 Nancy Lenore Johnson, 84, of Newark, died Tuesday, October 8, 2019 at Sharon Brooke Assisted Living. She was born July 3, 1935 in Carmichaels, PA to the late William McKinley and Nancy Jane (Kennedy) Helmick.
Nancy was a member of the First Presbyterian Church where she was ordained as a Deacon. She was deeply rooted in her Christian faith and service to God. She retired as Branch Manager from the Chase Bank in Granville after 29 years of service. Nancy was a member of Zonta, she was an avid reader, enjoyed traveling, and loved spending time with her family and friends. She was a devoted wife, mom, grammie, and friend.
She is survived by her husband, James Gregory Johnson; son, John Michael (Brenda) McOsker II of Heath; three grandchildren, Amy Barcus, Rebecca McOsker, and Brian McOsker; three great grandchildren, Braiden, Ashton, and Kenzlee Barcus; many nieces and nephews; two sisters-in-law, Carla Aylesworth and Dorothy Helmick; and brother-in-law, Christopher (Deanna) Johnson. Special friends, Diane VanHoose, Marcita Bennett, Chris Rainey, Kim Dershem, Connie Sharp, Dave and Beth Morris, and Beth Barker and son Spencer.
In addition to her parents, she was preceded in death by brother, William "Sonny" Helmick Jr.; two sisters, Ann Delores "Dori" McLaughlin and Marcine McMinn; and mother and father in law, James and Sue Johnson.
Memorial contributions may be made to Hospice of Central Ohio, P.O. Box 430, Newark, OH 43058 and/or First Presbyterian Church Alpha and Missions Committees, 65 N. 3rd St. Newark, OH 43055.
Visitations will be held on Monday from 4-7 PM at the Brucker and Kishler Funeral Home, 985 N. 21st St. Newark, OH, as well as Tuesday at 10 AM with funeral services to follow at 11 AM. Rev. Dr. Richard Ellsworth will be officiating. Burial will follow the service in Newark Memorial Gardens.
To sign an online guestbook, please visit www.brucker-kishlerfuneralhome.com