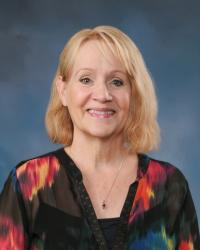 Patti Lynn Haden, 64, of Newark, passed away peacefully on October 5, 2019 in her loving home, surrounded by her husband, children and Vicky. The last two years of her life on Earth she faced ovarian cancer, but that did not define her as she had unwavering faith and hope and thrived in her personal relationship with God. Patti was born in Santa Monica, CA, moved to Ohio in 1964. She graduated from Reynoldsburg High School, where she met her true love of life, Bob, and they married in 1972, the beginning of a beautiful love story.
Patti "Mimi" loved and cherished her children and grandchildren; they were her life, sky and Earth. She enjoyed spending her time tending to her beautiful garden, where she made flowers look and smell their best. With her passion for literature, she was an avid reader, a fabulous cook, loved movies (especially a good mystery), visual and performing arts and she was an amazing dancer. Over the years, many memories were made during family vacations, as well as those special trips with her sister Mickey.
Patti graduated from the Ohio University with honors in 2011 with a Bachelor of Science degree in Education. She found her dream job at Granville Christian Academy, where she flourished as a teacher, mentor and friend to both her students and colleagues alike. In prior years, Patti taught at the Reynoldsburg United Methodist Church Preschool and enjoyed her years at the Ohio Department of Agriculture's markets division.
Proceeded in death by her parents Paul and Helen Smeltzer and her dear sister, Mickey Haven. Survived by her husband and best friend forever, Bob Haden; her treasured children Jennifer (Joe) Shunia, Andrea (Shawn) Whitt, Scott (Erin) Haden; the stars in her sky, her grandchildren, Jaden, Helena, Isaac and Greyson Whitt and Hudson Shunia; her brothers, Mike Smeltzer, Harry (Olivia) Smeltzer; her sister in law and special friend, Vicki (Dan) Haden-Marty, Debby (Frank) Peck; and many loved cousins, nieces, nephews and their children.
Patti had several long-life friendships over the years, specifically that with her dear friend Sharon Bartlett, the RUMC Preschool Ladies and the GCA Lunch Bunch, who were locked in her heart forever, gave her encouragement, support, love and were a funnel of hope for their "Pete".
Patti's Family would like to thank the following:
James Cancer Hospital Gynecological Oncology team for their loving care, specifically Dr. Copeland ("Hopeland") for what you do to fight cancer. A special thanks to Sarah

Szvzepanik

for being so loving, kind and reassuring to Patti, who loved you dearly.

Hospice of Central Ohio (Newark), for your guidance and care.

Springhills

Baptist Church and Pastor Tom Pound.

Granville Christian Academy, as this is where Patti thrived spiritually as a teacher and friend. A special thanks to the teachers, parents and students for your love, thoughts and prayers.
Her life will be celebrated on Saturday, October 19, 2019 at Springhills Baptist Church, located at 1820 Newark Granville Rd., Granville, OH 43023. Friendship Calling Hours will start at 10:00am followed by a Remembrance Service at 11:00am with a meal provided at the church following the service.
Donations in lieu of flowers can be made to; St Jude's Children's Research Hospital, Nationwide Children's Hospital or Faith Mission.
To read more about Patti, please visit: https://www.facebook.com/patti.haden.3 or www.brucker-kishlerfuneralhome.com