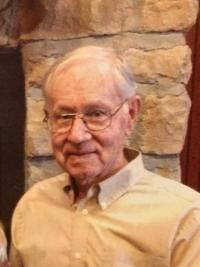 Calvin Lee Esworthy , born June 3, 1925 to Calvin Ray Esworthy and Mary Alice Ford Esworthy in Toboso, OH. He was the eldest of five children including his sister, Betty Jane Esworthy Simpson, and brothers, Robert Gene Esworthy, Larry Ray Esworthy, and Joseph Edward Esworthy.
He attended school at Toboso Elementary and Hanover-Toboso High School where he played on the basketball team. He graduated in 1943 and found work as a bricklayer's helper. In the fall of 1943 he enlisted into the U.S. Navy where he started as a Seaman, later becoming an Electrician Second Class serving on the U.S.S. Kyne stationed in the Pacific.
Upon Honorable Discharge from the service in 1946 he returned to the family farm on Brushy Fork Rd., Toboso. He married Hazel Beatrice Perry of Toboso October 12, 1946. He worked for the Newark Fire Dept. from 1950 to 1975 when he retired.
He was an avid golfer, bowler, and liked to play pool. He also enjoyed fishing, and hunting deer and squirrel. He was a member of the Christ United Methodist Church for over 70 years where he served as an usher. He was also a member of the Land of Legend Antique Tractor Club of Licking County, the Licking Valley Historical Learning Center in Hanover, Ohio Police and Fireman, and the American Legion in Hanover.
He is survived by his daughter, Shelia Esworthy (Bill) Spray of Newark, two grandsons, Andrew (Bethany) Spray of Newark and Ryan (Carrie) Spray of Boston, MA; five grandchildren, Brycn, Aidyn, Airyn, Grayson, and Baby Girl Spray (due 2020); four nieces, Barbara (Manny) Beltran, Melanee Simpson, Vanessa (Monty) Stalnaker, and Heidi (Dave) Elliott; and nephew, David Esworthy.
In addition to his parents, he was preceded in death by his wife of 72 years, Hazel Beatrice Esworthy.
Memorial contributions may be made to Hospice of Central Ohio, P.O. Box 430, Newark, OH 43058.
Visitation will be Sunday from 2-6 PM at the Brucker and Kishler Funeral Home, 985 N. 21st St. Newark where military honors will be presented by the Licking County Veterans Alliance at 5:00 PM. The funeral service will be Monday at 10:00 AM at the funeral home with Rev. Susan Britton officiating. Burial will follow the service in Cedar Hill Cemetery.
To sign an online guestbook, please visit www.brucker-kishlerfuneralhome.com.