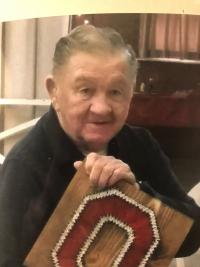 Richard Smith Atherton Sr., 89, of Newark, died Friday, November 8, 2019 at the Selma Markowitz Hospice Center. He was born April 15, 1930 in Utica to the late Carl and Irene (Williams) Atherton.
Richard was a veteran of the U.S. Army. He retired from Owens Corning after more than 20 years of service. He was a member of the Masonic Lodge #291 in Utica, American Legion Post #85, and Eagles Aerie 387. He was a wonderful husband, father, and grandfather.
He is survived by children, Jeanne (Randy) Scott, Debbie (Thom) Shaffer, and Richard Atherton Jr. all of Newark; son-in-law, Dave Brownfield of Newark; six grandchildren, LaTisha (Mike) Banks, NaTasha (Paul White) Scott, Ryan (Dawn) Brownfield, Dylan Atherton, Drew Atherton, and Derek Turner; four step grandchildren; three great grandchildren; 10 step great grandchildren; many nieces and nephews; special friend, Laura Atherton; and special pet, Choo.
In addition to his parents, he was preceded in death by his wife of 53 years, Donna Jean Atherton; daughter, Terry Brownfield, and two brothers.
Visitation will be Tuesday from 5-8 PM with a Masonic service at 8:15 PM at the Northside Church of Christ, 4427 Marion Rd. N.E., Newark, where the funeral service will be Wednesday at 12:00 PM with Pastors Rocky Smith and Bruce Hissong officiating. Burial will follow the service in Wilson Cemetery where military honors will be presented by the Licking County Veterans Alliance.
To sign an online guestbook, please visit www.brucker-kishlerfuneralhome.com