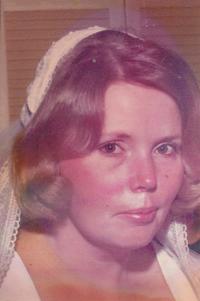 Margaret "Peg" Lynn Watson
October 24, 1950 – November 10, 2019
A funeral service for Margaret "Peg" Lynn Watson, 69, of Newark will be held at 10 am on Saturday, November 16, 2019 at The Church of Jesus Christ of Latter-day Saints, 2486 Newark-Granville Rd., Granville with Bishop Mark Bergstrom officiating. Burial will follow at Wilson Cemetery.
The family will receive friends from 4-7pm on Friday, November 15, 2019 at Brucker-Kishler Funeral Home, 985 N. 21st St., Newark and at the church on Saturday from 9-10am prior to service.
Peg passed away on November 10, 2019 at the Selma Markowitz Center in Newark. She was born on October 24, 1950 in Newark to the late Ralph Edward and Joann Lowella (Boring) Simpson.
Peg was a member of The Church of Jesus Christ of Latter-day Saints. She enjoyed bird watching, camping, genealogy, but most of all she enjoyed her family.
She is survived by her loving husband of 44 years, Roby Greek Watson, Jr.; six children, Jennifer Lynn Watson, Roby Greek Watson III, Ira Edward (Lindsay Marion) Watson, John Milas Watson, Jacob Whitaker Watson and Emma Victoria Watson; two grandchildren, Gianna Judith and Miles J. Edward Watson; and many nieces and nephews.
In addition to her parents, she is preceded in death by her brothers, Douglas Edward Simpson and Fred Dwayne Simpson; and sister, Patricia Ann Simpson.
Memorial contributions can be made to Alzheimer's Association Central Ohio Chapter, 1379 Dublin Rd., Columbus, OH, 43215.
To sign an online guestbook, please visit www.brucker-kishlerfuneralhome.com.