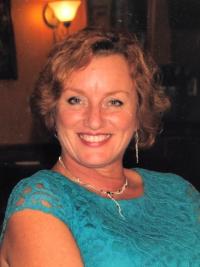 Petra Jeanna Ridenbaugh, 56, of Newark, died Tuesday, November 12, 2019 at Riverside Methodist Hospital. She was born October 15, 1963 in Durbin, South Africa to the late Jassie and Johanna Van Der Westhuizen.
Petra moved to the United States in 2000 with her son. She earned a Master's Degree from The Ohio State University in Social work and was currently working with Genesis Hospice. Petra was a God loving person and her family was the most important thing in her life. She was so full of love and joy and she spent her whole life taking care of everyone around her. She had a love for photography and enjoyed making crafts, hunting, being outdoors, sailing, music, and most importantly to her, spending time with her grandchildren.
She is survived by her husband, Rick Ridenbaugh; son, Wilhelm Paul of Dayton; two step sons, Justin Ridenbaugh of Roy, UT and Jason (Tiffany) Ridenbaugh of Newark; six grandchildren, Angelina, Scarlett, Jayden, Graydee, Taylor, and Mackenzie; two sisters, Corrie Schalekamp and Kina Klopper; one aunt, Marty (Willie) Saayman; brother-in-law, Dennis Taljard, and several nieces and nephews.
In addition to her parents, she was preceded in death by one sister, Francina Van Rooyen; and grandson, Jackson Paul.
Memorial contributions may be made to Genesis Hospice Care, 713 Forest Ave. Zanesville, OH 43701.
Visitation will be Saturday from 5-7 PM at the Brucker and Kishler Funeral Home, 985 N. 21st St. Newark, where the funeral service will follow at 7:00 PM with Pastor Tim Woodward officiating. To sign an online guestbook, please visit www.brucker-kishlerfuneralhome.com