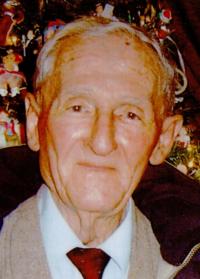 Charles Robert Thompson
A funeral service for Charles Robert Thompson, 93, of Heath, will be held at 10:00 a.m. Monday at Brucker and Kishler Funeral Home, with Pastor Tom Myers officiating. Burial will follow in Cedar Hill Cemetery, where military honors will be conducted by the Licking County Veterans Alliance.
Mr. Thompson, a retired self employed car dealer for T and T Motors, passed away June 20, 2013, at the Selma Markowitz Hospice Care Center. He was born November 15, 1919, in Newark, to the late Charles Ray and Leona Louise (Gilmore) Thompson
He was a WWII Army Veteran. He was a member of the Newark Elks and Moose.
He is survived by his sons, Rick (Sherry), Larry (Darlene), and Tim (Kelley) Thompson all of Newark; sister, Catherine Petrey; grandchildren, Chad Thompson of Newark, Mechelle Thompson of Newark, Christina (Jaycee) Novaria of Zanesville, Todd McCorkle of Granville, Tina Williamson of Heath, Tera Sentivany of Heath, Joshua Thompson of Newark, and Patrick Thompson of Newark; 17 great-grandchildren, sisters-in-law, Phyllis Thompson of Newark, Carolyn Thompson of Newark and Leona Thompson of Newark, and several nieces, nephews and cousins.
In addition to his parents, he was preceded in death by is wife, Bonnie Louise (Wallace) Thompson; brothers, James, William and John Thompson; grandsons, Rob Thompson, Gavin Novaria, and Michael Thompson, and brother-in-law, Raymond Petrey.
The family would like to express a special thanks to his home health caregivers, Joyce Facemyer and Patty Jaccaud for their wonderful support, care and compassion for Charles.
Friends may call from 2 to 4 p.m. Sunday at the funeral home, 985 N. 21st St. Newark.
In lieu of flowers, contributions may be made to Hospice of Central Ohio, P.O. Box 430, Newark, Ohio 43058-0430.
The family requests that all guestbook condolences be signed at www.brucker-kishlerfuneralhome.com and click
obituaries/guestbook entry.
Service details, Social networking, Memorial Guestbook and Slideshow are available here.