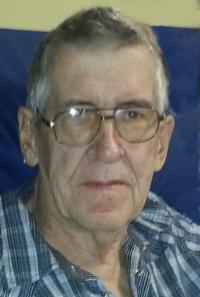 Herbert O. "Herb" Ashcraft, 77, of Newark, passed away Friday, January 17, 2014, at Autumn Healthcare in Newark.
Mr. Ashcraft was born March 10, 1936, near Frazeysburg, a son of the late Granville and Nellie (Fairall) Ashcraft. A veteran of the US Army serving three years, he had also served three years in the National Guard. From 1954 until his retirement in 1991, he worked at Owens Corning in Newark. His many interests included NASCAR, model cars, off roading on his 4×4, jigsaw puzzles and woodworking. Mr. Ashcraft especially enjoyed gathering with his friends at the 21st Street McDonalds for coffee.
Surviving are his daughter, Susan (Rodney) Chrisman of Walhonding; grandchildren, Jason (Amber) Chrisman of St. Louisville, Janelle Ketron of Martinsburg; great grandchildren, Madison O'Bryan, Chelsea
Chrisman, Chloe Ketron; a sister Mildred Hannah of Newark; a special friend Lennie Roberts of Nashport; several nieces and nephews and many friends.
In addition to his parents he was preceded in death by his wife Mary Joan (Litten) Ashcraft; his brothers Warren, Wayne, Calvin and Delbert Ashcraft; sisters Thelma Swinehart and Opal Ashcraft and grandsons, Jarrod Chrisman and Pedro Ketron.
A private graveside service will be held at a later date at the Welsh Hills Cemetery, Granville.
Memorial contributions may be directed to Hospice of Central Ohio, PO Box 430, Newark, Ohio 43058.
The Brucker-Kishler Funeral Home is honored to serve the Ashcraft family, to sign an online guest book, please visit www.brucker-kishlerfuneralhome.com
Service details, Social networking, Memorial Guestbook and Slideshow are available here.