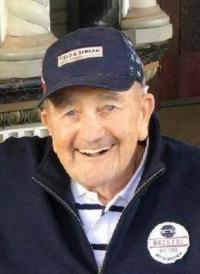 Henry A. Shepard
A Funeral Mass for Henry A. Shepard, 82, of Hebron, will be held at 10:30 a.m. Thursday at St. Francis de Sales Catholic Church, 40 Granville Street, Newark, with Fr. William A. Hritsko as celebrant. Burial will follow at Cedar Hill Cemetery, where military honors will be conducted by the Licking County Veterans Alliance. The family will receive friends from 5 to 8 p.m. Wednesday, at Brucker and Kishler Funeral Home, 985 N 21st Street, Newark
Henry passed away August 5, 2017, at his daughter's residence. He was born March 23, 1935, in Newark, to the late Henry H. and Harriet L. (Stevenson) Shepard.
Henry an Army Veteran. He was an avid hunter and fisherman. He had a great sense of humor and loved cooking and spending time with his family.
He is survived by his sons, David E. (Stephanie) Shepard of Dublin, OH and Douglas R. (Jan) Shepard of Newark; daughter, Juli A. (Dave) Price of Hebron; former daughter-in-law, Amy Shepard of Plain City; siblings, George (Barbara) Shepard of FL, Jim (Linda) Shepard of AZ, Debbie (William) Priest of Newark, and Tom (Jayne) Shepard of FL; grandchildren, Alyssa (Tim) Dierks, Jordan (Melanie) Shepard, Cameron (Brooke) Shepard, Tyler Shepard, Benjamin Shepard and Landon Shepard; three great-grandchildren, and numerous nieces and nephews.
In addition to his parents, he was preceded in death by wife, Janet Lou (Fox) Shepard, brothers, William J. Shepard and Fred Shepard, and sister, Juliann Shepard.
The family suggests contributions to Hospice of Central Ohio.
To sign an online guest book, please visit www.brucker-kishlerfuneralhome.com.