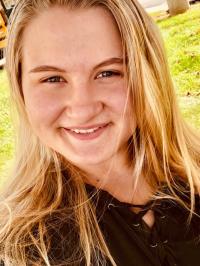 Emma Brynne-Marie Cunningham
A Celebration of Life service for Emma Brynne-Marie Cunningham, 16, of Nashport, will be held at 1 p.m. Saturday, January 19, 2019, at Marne United Methodist Church, 1019 Licking Valley Rd.
Emma, a junior at Licking Valley High School, passed away January 3, 2019, from injuries sustained from an automobile accident. She was born September 5, 2002, in Zanesville to Timothy Michael Cunningham and Keri Michelle (Peck) Cunningham.
Emma was a National Scholar student. She never met a stranger. She loved all animals, especially her dog Pearl and cat Booger. She enjoyed school plays, choir and hanging out with her friends.
In addition to her parents, she is survived by her brother, Mason Cunningham; maternal grandparents, Pam and Tom Kreider; paternal grandparents, Mary and Randy Gwynn and Mike and Kim Cunningham; great-grandmothers, Annette Brown, Joan Clark and Betty Cullison; aunts and uncle, Lori Ross, Kim Peck, and Chrissy (Jasson) Farrier, and several cousins.
She was preceded in death by her maternal grandfather, Richard Peck and uncle, Randal Gwynn.
In lieu of flowers, contributions may be made to the Licking Valley High School Choir. Please send checks to 1379 Licking Valley Rd. or drop check off at Licking Valley High School.
To sign an online guest book, please visit www.brucker-kishlerfuneralhome.com.