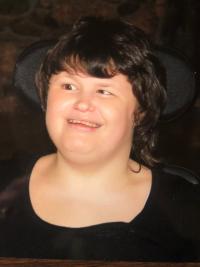 Kindra Sue Balo, 33, of Newark, went to be with the Lord on Wednesday, January 23, 2019. She passed away peacefully at the Kobacker House. She was born December 23, 1985, to Walter "Oak" and Penny (Bagent) Balo.
She is survived by her parents, Oak and Penny Balo of Newark; twin brother, Ken (Brittany) Balo of St. Louisville; maternal grandparents, Dick and Sandy Bagent; paternal grandparents, Bonnie and Pat Dyar; aunts and uncles: Becky (Jeff) Posey, Ryan (Tammy) Bagent, Connie McDaniel, and Kelvin Boyer; several loving cousins; special grandmother, Diane Lees; and best friend, Crystal Nichols.
She was preceded in death by her great grandmother, Kathryn Bagent; great grandmother, Nellie Jones; and uncle, Sonny Donahue. Kindra enjoyed riding the bus and spending time with her friends at KICKS. She also loved giving hugs, attending the Hartford Fair, swimming, and taking rides on her golf cart. But, most of all, she loved playing ball and listening to music (especially her favorite country music star, Bryan Lewis).
Memorial contributions may be made in Kindra's name to KICKS, LLC, 143 S. 29th St. Newark, OH 43055.
Visitation will be Sunday from 2-4 PM and 6-8 PM at the Brucker and Kishler Funeral Home, 985 N. 21st St. Newark, where the funeral service will be Monday at 11:00 AM with Pastors Victor Slutz and Moses Hamilton co-officiating.
Burial will follow the service at Rocky Fork Cemetery. To sign an online guestbook, please visit www.brucker-kishlerfuneralhome.com