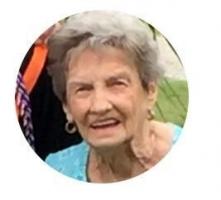 Pattie Jane Kinney, 86, of Orlando, Florida went home to heaven on June 27, 2019. She was born in Rittman, Ohio on April 16, 1933 to Blucher and Mary ( Christian) Frasher.
Pattie moved to Orlando, Florida in 1967. She was a 50 year member of the Licking Chapter of Eastern Star and a member of St. Luke's United Methodist Church in Windermere, Florida.
She is preceded in death by her beloved husband, George in 2001; her granddaughter, Kara Kinney in 1994 and her grandson, Travis Hutchinson in 2011.
Pattie is survived by her son, Gregory (Laura) of Geneva, Florida; her daughter, Deborah Hutchinson of Orlando, Florida; her grandchildren, Clay Kinney, Kelci Kinney and her two great grandchildren, Travis Hutchinson Jr. and Jason Cole Hutchinson. She is also survived by her brothers, Charles Frasher of Cooper City, Florida; Alvin Frasher of Willard, Ohio and James Frasher of Goldsboro, North Carolina.
A visitation was held on Monday, July 8, 2019 at at St. Luke's United Methodist Church, Orlando, FL.
A graveside service will be held at 10am on Saturday, July 13, 2019 at Newark Memorial Gardens, Newark, OH.
To sign an online guestbook, please visit www.brucker-kishlerfuneralhome.com.