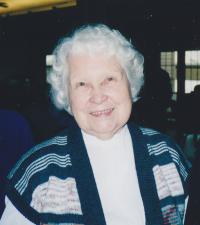 Florence L. Noblick, age 96, of Newark, went to her eternal home on Thursday, August 22, 2019 from the Inn Chapel Grove, where she had been a resident for over 8 years. She was the oldest daughter of the late Desler and Effie (Monroe) Evans, born on March 10, 1923 in Newark, OH.
She was a lifelong resident of Newark, and married John H. Noblick in 1944. They were married 55 years before his passing in 1999. Florence attended Christian Endeavor United Methodist Church most of her life and helped to start a summer picnic for the local nursing homes. Later she became a charter member of Alive Vineyard. She loved volunteering at Newark Health Care, attending bible study groups, Aglow meetings, and leading prayer chains. Her hobbies included crocheting lap robes for nursing homes, balancing her checkbook, and reading Christian romance novels.
A celebration of Florence's memory will be held at 11am on Tuesday, August 27, 2019 at Brucker Kishler Funeral Home, 985 N. 21st Street, Newark, OH 43055. Pastor Steve Osborne will be officiating, and she will be laid to rest at Wilson Cemetery following the service. Family will greet friends from 4-7pm on Monday, August 26, 2019 at the funeral home and from 10-11am on Tuesday, August 27, 2019 prior to the service.
Left behind to cherish her memory are her daughter, Linda (Terry) Priest of Corning; sons, Larry (Antonieta) Noblick, of Miami, FL and John (Charlene) Noblick of Newark; 7 grandchildren, Matthew (Paula) Priest of Dayton, Timothy (Carrie) Priest of Dayton, Jennifer (Steve) Large, Jordon (Jessica) Noblick, Paulette Muncy, and Ryan Muncy all of Newark, and Daniela Noblick of Miami, FL; 6 great grandchildren, Ashley and Caitlyn Priest, Ashton Kirk, Amy and Luke Priest, and Ella Large; sisters, Betty Schaller Gunnerson, and Nancy Keeran; brother, George Evans.
In addition to her parents and her husband, Florence is preceded in death by her brother, Jack Evans.
The family would like to give special thanks to The Inn at Chapel Grove and Vitas Hospice for their compassionate and devoted care.
In lieu of flowers, donations may be made to Xingu Missions (Brazil) PO Box 340785, Columbus, OH 43234.
To sign an online guestbook, please visit www.brucker-kishlerfuneralhome.com.