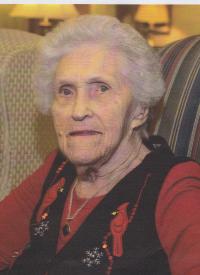 Olive L. Hendershot
A funeral service for Olive L. Hendershot, 97, of Newark, will be held at 10 a.m. Saturday at Brucker and Kishler Funeral Home, with Pastor Moses Hamilton officiating. Visitation will be held from 2 to 4 and 6 to 8 p.m. Friday at the funeral home, 985 N. 21st St. Newark. Burial will follow in Smith Chapel Cemetery.
Olive, a homemaker, passed away September 9, 2019, at Arlington Care Center. She was born December 9, 1921, in Licking County, to the late Charlie B. and Mary (Rinehart) Johnson.
Olive was a member of Rocky Fork Church of Christ, where she was a VBS craft leader for many years and decorated for weddings and receptions. She was an avid Beanie Baby collector and loved to play cards at The Heritage. She was a member of the Fallsburg Homemakers Club. She used to work for Owens Corning and S.S. Kresge Company
She is survived by her brother, Frederick Johnson of Pickerington; a nephew; special cousin, Terry Miller, and friends, Cecile and Paul Pletcher and family and Sandy and Dick Bagent and family.
In addition to her parents, she was preceded in death by her husband, Luther T. Hendershot.
In lieu of flowers contributions may be made to Hospice of Central Ohio.
To sign an online guest book, please visit www.brucker-kishlerfuneralhome.com.