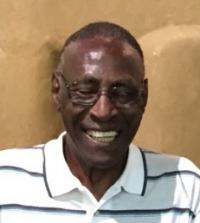 Carter George Polk, age 82, of Newark, passed away on Friday, October 4, 2019. He was born on April 13, 1937 to the late George and Edna (Dade) Polk in St. Augustine, TX.
A funeral service will be held 1pm on Friday, October 11, 2019 at Brucker Kishler Funeral Home, 985 N. 21st Street, Newark, OH 43055. Family will greet friends from 5-7pm on Thursday, October 10, 2019 at the funeral home. Carter will be laid to rest at Newark Memorial Gardens following the service, where the Licking County Veterans Alliance will provide military honors.
Carter proudly served his country as a member of the Marine Corps. He then went on to work for Dow Chemical Company and the City of Granville, until he retired. Carter was a family man he loved gathering around the table spending time with his family playing cards and dominoes. Papa is what his grand/great grandchildren called him, he spent a lot of time with them and he will be sorely missed. Carter loved to travel, loved his sports and meeting up with his buddies at local restaurants for morning breakfast.
Carter lived a full life and he touched everyone that came in contact with him, the family asks that you not mourn his death but celebrate his life with the memories of him.
Carter leaves behind his children, James Enricki Greenwell, Darryl Dale Polk, Vicki Marrae Wilson, Lanci Isaac Greenwell, Lonnell (Dawn) Fears, Benny Lee (Tammy) Wright, Jr., and Danny Eugene (Katrina) Polk; 14 grandchildren; 9 great grandchildren; siblings, Jonnie Pearl (Nathan) Wright, Troy (Debbie) Polk, Sylvia Wells, James Polk, John Wayne (Ruth) Polk, and Frankie (James Chism) Polk. He also leaves behind many nieces, nephews, cousins, and friends.
In addition to his parents, Carter is preceded in death by his beloved wife, Virgie Polk, and son, Larry Dale Polk.
The family would like to thank Tamera L. Novak for her loving kindness and generosity for caring and looking after mom and dad. Sis we love you dearly.
The family would also like to thank all the ball bearers and honorary pall bearers for their service.
To sign an online guestbook, please visit www.brucker-kishlerfuneralhome.com.