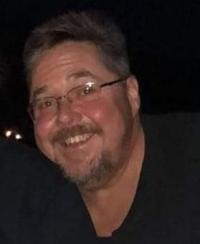 Steven Joseph Hurley
A funeral service for Steven Joseph Hurley, 51, of Newark, will be held at 11:00 a.m. Saturday at Brucker and Kishler Funeral Home, with Pastor Roger Conley officiating. Burial will follow in Fallsburg Cemetery. Family will receive friends from 2 to 4 and 6 to 8 p.m. Friday at the funeral home, 985 N. 21st St. Newark.
Steve passed away November 6, 2019, at the Newark Care and Rehabilitation Center. He was born November 1, 1968, in Zanesville, to Robert Jay and Judy Anne (Leonard) Hurley.
Steve was a 1987 graduate of Riverview High School and a Navy Reserve Veteran. He worked for Christy's Pizza and attended Crossway Fellowship Church in Vanatta.
In addition to his parents, he is survived by his children, Hannah, Kaitlyn, Tyler, and Cameron Hurley; siblings, Jim (Barb) Hurley, Jo (Dave) Ashcraft, Doug (Susan) Hurley, Barb (Rodney) Chapman, Roberta (Gene) Sebastian, and Julie (Shawn) Brown, and numerous nieces, nephews, great-nieces, and great-nephews.
He was preceded in death by his nephew, Jeremy Hurley.
In lieu of flowers, contributions may be made to Hospice of Central Ohio.
To sign an online guest book, please visit www.brucker-kishlerfuneralhome.com.