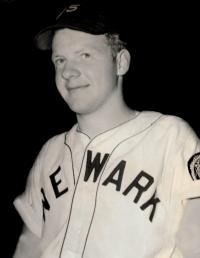 Bob Mann, age 82, of Newark, Ohio, went home to be with Jesus Wednesday Evening.

A graveside memorial will be at 1pm, Friday, November 15th at St Joseph's Cemetery, on Mt Vernon Road, just north of Newark, with burial of his ashes immediately following.

Arrangements are by Brucker and Kishler Funeral Home.

Robert David Mann was born in Wellsville, Ohio to Ernest and Kathryn (Smyrna) Mann on December 18, 1936. He graduated from Newark (Ohio) High School in 1954. Bob married his high school sweetheart, Patricia Helene Bryan on June 30, 1956 in St. Francis de Sales Church in Newark, Ohio. He was a baseball stand-out at NHS and went on the play for the Washington Senator's organization before injuries forced his early retirement. He worked as a computer programmer for Rockwell Standard, a real-estate broker for HER Real Estate, and eventually working for and retiring at age 58, from The Georgia Pacific Corporation. He was an avid golfer, bowler and the consummate sports enthusiast who loved his Cleveland Indians ("just wait till next year!"). Bob spent countless hours coaching and attending his 3 son's sports/racing/musical adventures and then doing the same with his 11 grandchildren.

Bob is preceded in death by his wife Patty, his mother and father Ernie and Kate, his brother Dick and wife Mary (Smith) Mann, his mother and father-in-law, George and Eleanor Bryan, and brother-in-law Tom Giles.

Bob is survived by his sons, Greg and Wendy (Meuse) Mann, Mitch Mann, and Doug and Julia (Hammond) Mann, all of Newark; sister, Patsy Giles, of Arizona; grandchildren, Justin and Erin (Wilson) Mann, Ryan and Emilee (Morgan) Mann, Calvin, Jordan, Benjamin and Morgan Mann, Josh, Caleb, Zach and Kaylee (Miller) Mann, and Megan and Devin Mann; great-grandchildren, Emily Mann, Madelyn and Allie Rose Mann, Carter Mann, and Collin Mann; brother-in-law, Bill Bryan; many beloved nieces and nephews; and special friends, Mary Cartnal Ruth and Laurie Cartnal Ghiloni.

After the burial, friends and family are invited to The Buckeye Winery, 25 N. 3rd Street in downtown Newark, for a time to celebrate Bob's life.

To sign an online guest book, please visit www.brucker-kishlerfuneralhome.com.