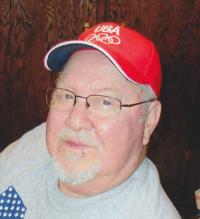 Roy L. Whisner
A funeral service for Roy L. Whisner Jr, 81, of St. Louisville, will be held at 12 p.m. Friday at Brucker and Kishler Funeral Home. Burial will follow in Wilson Cemetery, where military honors will be conducted by the Licking County Veterans Alliance. Family will receive friends from 5 to 8 p.m. Thursday at the funeral home, 985 N. 21st St.
Roy passed away August 6, 2018, at the Selma Markowitz Hospice Care Center. He was born March 26, 1937, in Kempton, MD, to the late Roy L. Whisner Sr. and Ocie (Wilfong) Whisner.
Roy was a U.S. Air Force Veteran. He retired from Rockwell and was a member of Licking Valley Church of Christ since 1965. He enjoyed hunting and fishing.
He is survived by his sons, Roy L. (Paula Drumm) Whisner III of Newark and Edward (Donita) Whisner of OK; brothers, Ronald (Juanita) Whisner Sr. of Utica, Richard Whisner of Newark, Randy (Kathy) Whisner of St. Louisville, and Sandy (Tom) Magers of St. Louisville; grandchildren, Amanda, Nathan (Lynsey), Ashlee, and Crystal Whisner; great-grandchildren, Chase, Emory, and Alena Whisner; his dog Pinky and several nieces, nephews, and cousins.
In addition to his parents, he was preceded in death by his wife, Anna Belle (Bancroft) Whisner; step-son, Thomas Bancroft and brother, Ricky Whisner.
In lieu of flowers, contributions may be made to Maci's Mended Heart.
To sign an online guest book, please visit www.brucker-kishlerfuneralhome.com.