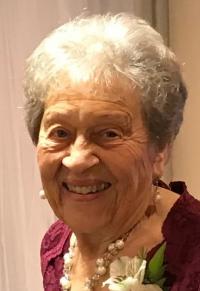 A celebration of life for Norma Jean (Holton) Londot, 87, of Utica will be held Monday, December 2, 2019 at 11:00 AM at the Brucker & Kishler Funeral Home, 985 N. 21st St. Newark, with Pastor Victor Slutz officiating. Burial will follow in Eden Cemetery.
Mrs. Londot went to be with the Lord on November 26, 2019 at her residence. She was born June 27, 1932 in Eden Twp. Licking County, Ohio to the late Ora Holton and Nellie Irene (DeVoll) Holton.
Norma worked at Heisey Glass in Newark, Ohio before resigning to raise her five children. Norma's kitchen was the site of many memories for her family and friends. She was a member of the Eden Church of Christ, the Purity Grange, and the True Core Euchre Club. She bowled in the Monday Morning Housewives League for many years. She enjoyed cheering for her children and grandchildren at sporting events.
She is survived by her husband of 65 years, Jack T. Londot, whom she married on October 10, 1954; children, Monte (Cindy) Londot of Utica, Pamela (Charles) Frazier of Chillicothe, Kimberly (Tyrone) Marston of Utica, Jodi (Dale) Moorman of Xenia, and Kevin (Laurie) Londot of Utica; grandchildren, Todd (Lori) Londot of Granville, Ted (Kaitlin) Londot, Travis (fiance, Chelsea) Londot of Newark, Tamra (Cameron) Pappa of Findlay, Trevor (Tiffany) Frazier of Norfolk, Virginia, Carly (Jimmy) Neagle of Columbus, Heidi (Ryan) Boland of Rochester, New York, Cody (Alexandra) Marston of Utica, Megan Moorman of Washington Court House, Dana and Nick Moorman of Xenia, Rachel Londot of Philadelphia, PA, Alyson and Emily Londot of Utica; great grandchildren, Brooklyn, Bradie, and Bryn Londot, Emma Huber and Knox Marston, and Henry Londot; brother, Richard (Erma) Holton of St. Louisville; sisters, Bernice (Joe) West of Newark, Betty (Richard) Barrett of Michigan, Patricia (Roger) Smith and Sandra (Richard) Bagent both of St. Louisville.
In addition to her parents, she was preceded in death by her sister, Catherine (Robert) Humphries and her brother, Ora Robert (Janice) Holton.
Friends may call the funeral home on Sunday, December 1, from 2:00- 5:00 PM.
Memorial Donations may be made to Hospice of Central Ohio, P.O. Box 430, Newark, OH 43058 and/or Eden Church of Christ, 10052 Eden Church Rd., St. Louisville, OH 43071
To sign an online guestbook, please visit www.brucker-kishlerfuneralhome.com