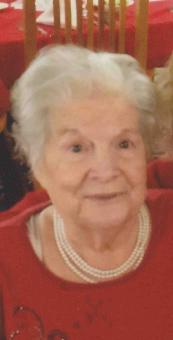 Lois (Wilson) Barrett
A graveside service for Lois (Wilson) Barrett, 86, of Dover, OH, formerly of Newark, OH. will be held at 11 a.m. Friday Dec 6th at Wilson Cemetery, with Pastor Gene McNerney officiating.
Family will receive friends Thursday Dec 5th from 2 to 4 and 6 to 8 p.m. at The Brucker-Kishler Funeral home, 985 N. 21st St. Newark, OH.
Lois passed away November 29, 2019, at Hennis Care Center in Dover, OH She was born August 1, 1933, in Gainesville, GA. to the late Jones Allen and Ruby Ardelia (Smith) Acree.
Lois graduated in 1950 from McEachern High School in Powder Springs, GA. After 15 years of service she retired from the Licking County Aging Program as a head cook on August 3, 2001. She was a devoted wife and loving mother, grandmother, and great-grandmother. She loved watching and caring for her grandchildren as they grew up and then helping with her great-grandchildren as they came along. Lois enjoyed reading, especially novels by her favorite author Nicholas Sparks, going for walks, traveling, going to the movies with friends and family, watching Georgia Bulldogs football as well as her beloved Atlanta Braves.
Lois was always there for her children, always the caregiver and she will be sadly missed by her family.
She is survived by her sons, Gary (Maryjo) Wilson of Coon Valley, WI and Ed (Diana) Wilson of Gahanna, OH; daughters, Debi (Larry) Kandel of Dover, OH and Donna Wilson of Vine Grove, KY; step-son, Richard (Ruth) Barrett of Newark; grandchildren, Heather Lentz of Akron, OH, Shannon Parsons of Thornville, OH, Jennifer (Bryce) Wells of Fredericktown, OH, Collin Wilson of Gahanna, OH, Christopher Wilson of Mt. Vernon, OH and Andrea (Casey) Palmer of Reno, NV. Step-grandchildren, Aaron (Amanda) Barrett of Dayton, OH, Kristina (Matt) Booth of Newark, OH, Jeff (Shelly) Simmers of Oxford, SC, and Shani (Simmers) Hotchkiss of Newark; 10 great-grandchildren; 12 step- great-grandchildren; brothers, Johnny Acree and Ken Acree both of GA, and Jerry Acree of FL; sisters, Betty Jean Tucker, Dianne (Wesley) Elder, and Brenda (John) Seale all of GA, plus numerous nieces, nephews, and great-nieces and nephews.
In addition to her parents, she was preceded in death by her husband, Chester Barrett, whom she married on August 4, 1978; grandson, Stephen Kidd; stepdaughter and son-in-law, Jerry and Judie Simmers, five brothers, four sisters, and first husband, Chet L. Wilson.
In lieu of flowers, donations may be made to Tuscarawas Community Hospice, 716 Commercial Ave. SW, New Philadelphia OH. 44663
To sign an online guest book, please visit www.brucker-kishlerfuneralhome.com