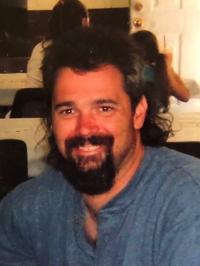 A funeral service celebrating the life of Richard Alan Mosholder Sr., 51, of Fairfield Beach, will be held Saturday, December 7, 2019 at 3:00 PM at Brucker and Kishler Funeral Home. Military honors will be presented by the Licking County Veterans Alliance.
Family and friends may call at the funeral home, 985 N. 21st St. Newark, Friday from 4-8 PM and Saturday from 2-3 PM.
Richard was born in Newark on May 13, 1968 to the late Roderick Alan Mosholder and Carol (Braunbeck) Dymek. He passed away in a car accident on November 29, 2019.
Richard proudly served his country in the United States Army in Germany during Desert Storm. He had worked for many years for Yonkers towing. He enjoyed working on motorcycles. Richard deeply cared for his Independent Bikers Association M.C. family and enjoyed many years of dedicated service to the IBAMC. He was an avid Ohio State Buckeye fan and loved motorcycles.
He is survived by his loving wife of 25 years, Kathy (Holskey) Mosholder, whom he married September 14, 1994; step father, Mark D. Dymek; children, Tatjana Mosholder of Germany, Ryan Mosholder and Richard Mosholder Jr.; step-son, Paul Eversole; brother, Robert (Shelly) Mosholder; brother-in-law, Nelson Keller; step brothers, Lonnie Sunkle, Ronnie (Sondra) Sunkle, and Shannon (April) Sunkle; grandchildren, Denie, Honesty, La'belle, Emmanuel, Laylynn, Kysin, Kysean, Jay, Di'shon, Priscilla, and Alex; nieces, Whitney and Mackenzie Keller, Alyssa Wies, Alexis and Autumn Mosholder, and Dianna (Tyler) Boorn; and special friend, Evelyn Vanscoy; and his brother and sisters of the IBAMC.
In addition to his father, he was preceded in death by a sister, Robyn Ann Keller; granddaughter, Bri'anna Marie Mosholder; paternal grandparents, Kenneth and May Elizabeth (Stewart) Mosholder; and maternal grandparents, Herbert and Eva (Sullivan) Braunbeck.
To sign an online guestbook, please visit www.brucker-kishlerfuneralhome.com