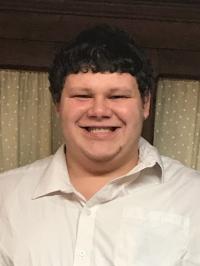 A funeral service celebrating the life of Christian Jude Forgey, 19, of Newark, will be held Saturday, December 7, 2019 at 3:00 PM at Brucker and Kishler Funeral Home.
Family and friends may call at the funeral home, 985 N. 21st St. Newark, Friday from 4-8 PM and Saturday from 2-3 PM.
Christian was born in Newark on November 7, 2000 to Kimberly Friend and Brian Forgey.
Christian enjoyed spending time with his friends and family as well as playing video games. He was becoming a very good card player in Rummy. Christian also loved spending time with his Pitbull, Tank. When Christian smiled, he could light up a room, he knew no stranger and was there for anyone who needed him. He was thankful for everything people did or got him. He enjoyed watching Ohio State games with his father and the T.V series Arrow with his sister.
He is survived by his father, Brian Forgey, mother, Kimberly Friend; sister and brother-in-law, Dianna (Friend) and Tyler Boorn; grandparents, Ed and Laura Forgey of Tracy, CA; aunts and uncles, Christine and Jeff Davis of Hebron and Cynthia and Scott Rottmann of Leesburg, VA; cousins, Brittany Prior, Dane Strange, Lilly Strange, Collin Rottmann, and Kara Rottmann; aunt, Kathy Mosholder; and cousins, Paul Eversole, Prisilla Eversole and Alexzander Eversole.
To sign an online guestbook, please visit www.brucker-kishlerfuneralhome.com