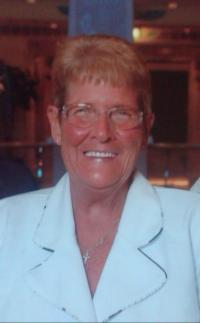 Dolores J. Rucker, age 81, of Newark, passed away on Wednesday, December 4, 2019. She was born on August 2, 1938 to the late Morris and Dorthea (Embrey) Clayton in Zanesville, OH.
A funeral service will be held at 5pm on Sunday, December 8, 2019 at Brucker Kishler Funeral Home, 985 N. 21st Street, Newark, OH 43055. Family will greet friends from 2-5pm on Sunday prior to the service at the funeral home. Dolores will be laid to rest at 11am on Monday, December 9, 2019 at Fultonham Cemetery, 7605 Old Town Rd, Mt Perry, OH 43760.
Dolores was a member of Believers Fellowship Church for over 30 years. In her free time, she enjoyed crafting, cooking, and making care packages for soldiers. Her most cherished moments were times spent with grandchildren and family.
Dolores is survived by her children, Lee (Deanna) Clayton and Tammy (Wayne) Kean; grandchildren, Bradley Kean, Nicholas Kean, Daniel Clayton, and Tabitha (Nima) Nasser; great grandson, Matthew Nasser; sister, Sharmayne Nunes; niece, Nicole Skidmore; uncle, Charles May; and her extended relatives, the entire Kean Family.
In addition to her parents, Dolores was preceded in death by her loving husband, William Rucker, and aunt, Twila May.
To sign an online guestbook, please visit www.brucker-kishlerfuneralhome.com.