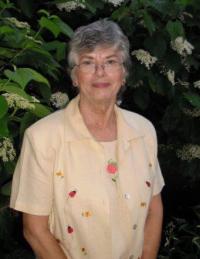 Beverly "Kay" Ciminello, 76, died Saturday afternoon, September 29, 2012, at Grant Medical Center in Columbus, from injuries received in a automobile accident on Tuesday morning, Sept 25th.
Kay Ciminello was born July 24th, 1936 in Bloomville Ohio. A daughter of the late Vincent and Genevive "Bea" Dornan. She received her Bachelor of Science Degree from Otterbein College in 1959.Elementary School Teacher, Christian Educator, and career Homemaker, Mrs. Ciminello was a active member of Trinity Episcopal Church in Newark, and pioneered the Licking County Food Pantry. Once a Sweet Adeline, Kay loved to sing and was a member of her church's choir. An experienced seamstress, artist, cook, and gardener, she most enjoyed spending time with her family, friends and animals.
She is survived by Fred, her husband of 53 years, and their sons Jamie (Lynda) Ciminello and Jeff (Rebecca) MacKay; granddaughter Paige Ciminello, grandson Wilde Ciminello MacKay; two sisters, Karen (Tom) Meiser and Kathy Dornan; nephews Gary Ciminello, Rob Meiser, Sean Dornan; nieces Tracy and Kelly Meiser and cousins Scott and Mark Melroy, and their families.
The family will receive friends on Tuesday Oct 2nd, 5-7pm, at the Brucker and Kishler Funeral Home, 985 N 21st St, Newark, and 1 hour prior to the funeral service to be held at Trinity Episcopal Church, 76 E. Main St. Newark, on Saturday, Oct 6th, 2012 at 11am.
The Family requests that memorials be made to the Licking County Food Pantry, 823 Steele Avenue, Newark, OH 43055 or the Trinity Episcopal Church, 76 E. Main Street, Newark, OH 43055.
Full service details, Memorial Guestbook and Slideshow and sharing features are available here.