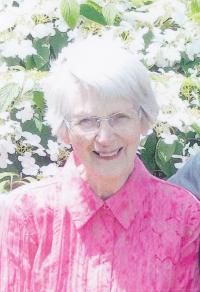 A funeral service for Evelyn Harriett Auld at 11am on Friday, August 11, 2017 at Brucker Kishler Funeral Home, 985 N. 21st Street, Newark, OH 43055. Services will be officiated by Pastor Jeff Gill and burial will follow at Newark Memorial Gardens. Family will greet friends for one hour prior to the service at the funeral home.
Evelyn, age 95, of Newark passed away on Saturday, August 5, 2017. She was born on March 19, 1922 to the late Hans and Julia (Huseby) Strand in Nome, North Dakota.
Evelyn became a Gold Star Mother in 1969 when her son lost his life during the Vietnam War. She was the Treasurer for the Newark Chapter for over 20 years. In her free time, Evelyn enjoyed sewing and doing crafts. She loved helping others and being active in the church.
Evelyn is survived by her daughter, Julie (Donald) Auld-Ridgeway.
In addition to her parents, Evelyn is preceded in death by her husband, Roger Auld, SR; son, Roger Auld, JR; and siblings, Mabel Londos, Alfred Strand, and James Strand.
In lieu of flowers, please send donations to Shriners Hospitals for Children, 3229 Burnet Ave, Cincinnati, OH 45229.
To sign an online guestbook, please visit www.brucker-kishlerfuneralhome.com.