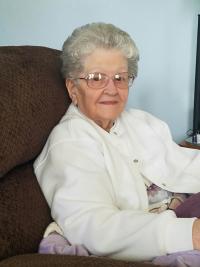 Hazel L. Williams, age 89, of Newark, passed away peacefully on Friday, August 23, 2019. She was born on July 22, 1930 to the late Urban and Lottie (Weir) Gregorcyk in Bluntzer, TX.
Hazel will be laid to rest at Newark Memorial Gardens. There will be no public services.
Hazel proudly raised 6 children. She enjoyed feeding and watching the birds from her porch and playing cards and dominos with her family. Hazel also made the best apple tarts. She was dearly loved and will be greatly missed.
Left to cherish her memory are her children, Donald (Cinda) Williams, John (Gloria) Williams, Sharon Williams-Anderson, Debbie (Bob) Rubeck, David E. (Suzie) Williams II, and Janice (Philip) Bourizk; 15 grandchildren; 22 great grandchildren; 9 great-great grandchildren; 1 brother and 3 sisters in Texas; domino opponent, Beth Ann Keller; and numerous nieces, nephews, and friends.
In addition to her parents, Hazel is preceded in death by her husband, David E. "Tex" Williams, 2 sisters, 1 brother, and 1 grandson.
To sign an online guestbook, please visit www.brucker-kishlerfuneralhome.com.