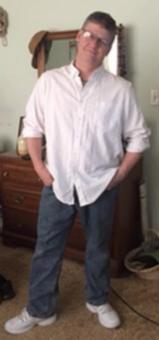 Kenny James Wingler, 44, of Mt. Vernon, Ohio, passed away January 17, 2019, at Knox Community Hospital. He was born February 8, 1974, in Perth Amboy, New Jersey, to Eleanor Wingler and the late Michael Wingler.
Kenny was a mechanic for Dave's Tire and Auto Repair, and previously worked for Monro Auto Service.
In addition to his mother, Eleanor Wingler he is survived by his wife, Raegen L. (Miles) Wingler; children, Kaitlyn Wingler of Mt. Vernon and Myles Wingler of Mt. Vernon, and siblings, Patti, Sherry, Michael, Lisa, Debbie, Stevie, Lilly, Joey, Frankie, and Chrissy.
He was preceded in death by his father, Michael Wingler who passed away February 2017.
To sign an online guest book, please visit www.brucker-kishlerfuneralome.com