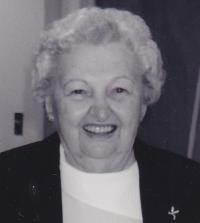 Funeral services for Margaret E. Bickle will be held 11:00 A.M. Thursday, July 27, 2017 at Brucker-Kishler Funeral Home, 985 N 21st Street, Newark, with Rev. Kathryn Clausen presiding. Interment will follow at Newark Memorial Gardens. The family will receive friends and acquaintance from 9-11:00 A.M. Thursday.
Mrs. Bickle, age 96, passed away at her Newark home on Friday, July 21, 2017. She was born October 20, 1920 in Santoy, Ohio to her parents Andras and Julia (Szino) Sepos. She was a graduate of Newark High School. She married Walter K. Bickle on August 25, 1945. She was a former employee with the County Auditor's Office and a teller with the former County Savings. She was an 88 year member of Trinity Episcopal Church – Newark. She enjoyed gardening, music, cooking and time with her family.
Margaret is survived by her son Dr. Frank (Eva) Bickle of Granville, OH and daughter Janet Bickle of Newark, OH; grandchildren Dr. Katherine (Kevin Meenach) Bickle and Kenneth Bickle as well as nieces and nephews.
In addition to her parents, her husband Walter K. Bickle, three brothers Alex, Albert and Charles Sepos and her sister Mary Kuchar preceded Margaret in death.
In lieu of flowers, the family suggests memorial gifts to Trinity Episcopal Church, 76 E. Main Street, Newark, OH 43055.
Online condolences to the family may be sent via www.brucker-kishlerfuneral home.com.