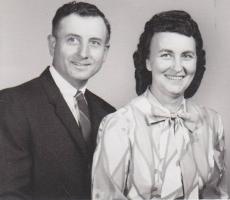 Mary L. Jacks
A funeral service for Mary L. Jacks, 93, of Newark, will be held at 11:00 a.m. Wednesday, at Brucker and Kishler Funeral Home, with Pastor Gene Waters officiating. A private burial will be held in Newark Memorial Gardens. Family will receive friends from 10 to 11 a.m. Wednesday, one hour prior to the service at the funeral home, 985 N. 21st St. Newark.
Mary, a homemaker, passed away July 30, 2017, at Mt. Carmel East. She was born October 27, 1923, in New Lebanon, Ohio, to the late Walter F. And Treva N. (Gisewite) Bowser.
Mary was of Apostolic Faith. She enjoyed embroidery and reading, and loved word seek puzzles. She was a collector of miniature birds, swans, and shoes.
She is survived by her son Robert A. Jacks, Jr. of Newark; daughter, Janet I. (Raymond) North of St. Louisville; sister, Helen Shuff of Brookville; grandchildren, Daniel (Autumn) Esterline, Derek (Deb) Esterline, Brian (Denise) Jacks of Newark, Michael (Heather) North, and Krista (Jim) Miller, and fourteen great-grandchildren.
In addition to her parents, she was preceded in death by her husband, Robert A. Jacks, Sr.; daughter, Geraldine K. Esterline; brothers, Lawrence and Herman; sister, Evelyn; grandsons, David and Nicholas, and daughter-in-law, Sue L. Jacks.
In lieu of flowers, contributions may be made to The Mount Carmel East Hospice.
To sign an online guest book, please visit www.brucker-kishlerfuneralhome.com.