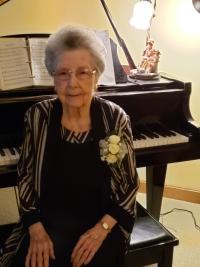 Rosida Barlow, age 99, of Heath passed away peacefully on Monday, September 2, 2019 at her daughter's home. She was born on November 26, 1919 to the late Mart and Zona (Lambert) Ingles in Olive Hill, KY.
A funeral service will be held at 11am on Friday, September 6, 2019 at Christian Life Center, 665 Linnville Rd, Heath, OH 43056. Services will be officiated by Bishop T.L. Kirk and Pastor Michael Ensey. Rosida will be laid to rest at Wilson Cemetery following the services. Family will greet friends for one hour prior to the service at the church.
Rosida was a loving mother and pastor's wife for more than 50 years. She was a member of Christian Life Center for 7 years. In her free time, she liked to read and create photo albums of her family.
Left to cherish her memory are her daughters, Alice Fay (Lloyd) Kirk and Louise Koontz; grandchildren, Mark (LaShonna) Kirk, David Kirk, Joe (Michelle) Koontz, Phillip Kirk, and Jeff Koontz; granddaughter-in-love, Angie Kirk; 13 great grandchildren; 2 great great grandchildren; sisters-in-law, Jeanetta and Sue; and numerous nieces and nephews.
In addition to her parents, Rosida is preceded in death by her loving husband, Ralph E. Barlow; siblings, Marceline Bond, Ruby Collins-Rose, Betty Kash-Short, Marie Elliot, Clarence Ingles, Gilbert Ingles, Mart Ingles Jr., Benny Joe Ingles, and Roger Ingles; grandson, James Kirk; and son-in-law, Bill Koontz.
To sign an online guestbook, please visit www.brucker-kishlerfuneralhome.com.